It is that time of year when the mornings are dark and cold, you feel extra exhausted at the end of a work day and junk food and your couch seems SO much more appealing than something healthy and a workout.  Ah, Winter.  I don't know about you but I am DETERMINED this year to not let the winter blues get the best of my healthy habits.  I suppose having to look good in a stupid expensive white dress this spring for all my friends and family to awkwardly stare at me has something to do with that?  Hard to say.
In the summer months I am pretty strict with my workouts and eating, more strict than normal.  Perhaps even borderline obsessive some would say.  I don't want to go that extreme, after all the best parts of the winter for me are indulging in some holiday treats and having lots of wine with good friends.  But I still am planning on sticking to my "no sweets" except for Turkey Day and Christmas rule.  Need to keep my sweets in check.
A friend recommended doing a recipe round up of all my favorite recipes to share with you.  What a fabulous idea!  Thanks Dee 🙂  So I hope this inspires you to cook up something good this weekend.
I must forewarn, nothing I make is my own recipe.  Unless you count yogurt, granola and strawberries as original, doubtful.  I get 90% of my recipes from my two favorite blogs Paleomg.com and cleaneatingmag.com and the rest from Pinterest.  I wish I could tell you I come up with everything on my own but…ain't nobody got time for that.
In terms of meal planning, every Sunday I cook-up TWO meals that I can put in containers for the week.  This week was White Chicken Chili and then a concoction of chicken, brown rice, pesto, spinach and almonds (that was kind of a last minute throw together, no real recipe).   Then during the week I make 1-2 meals right after work, depending on my schedule.  If I am not going to be home much during the week , I will just made 3-4 recipes all on Sunday.  But we always have food ready to go in the fridge for a meal, no excuses.
An all time favorite, and always a hit at parties/events is MEATZA!  Yes, pizza with out the bread.  Stop judging and just try it.  It is amazeballs.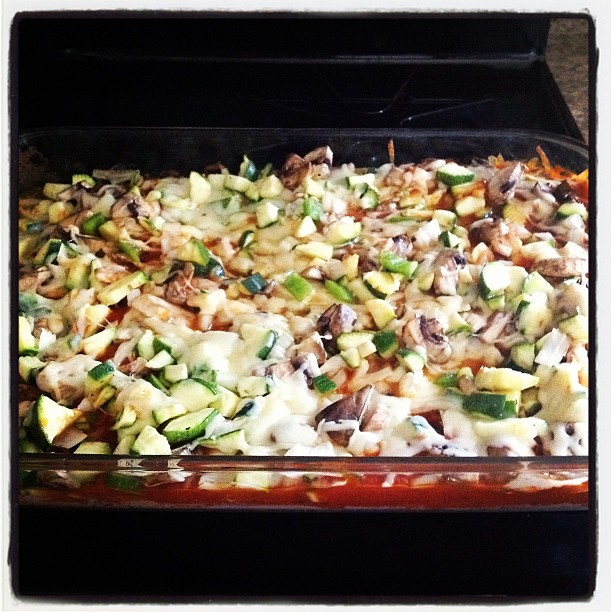 You know how as a kid when your mom made meatloaf and you were like UGGHHHH NOT MEATLOAF!  Turns out we did not know what we were missing.  Now I totally understand why this is an awesome go to meal- it is SO EASY.  Check out a variety of my favorite meatloaf recipes here.
For all you pasta lovers out there, fear the carb belly no more.  You must explore the awesomeness of spaghetti squash.  It tastes just like pasta (better in my opinion) but way better for you, it is a vegetable!  You can do something as simple as mix it with some olive oil, smidge of butter and Parmesan cheese or you can check out some other awesome Spaghetti Squash options that I love (Chicken Alfredo is my fave).
A Sunday breakfast favorite in our house is Bacon wrapped eggs (bacon is not as bad for you as you think people,  cool your jets).
    And then sometimes I get really lazy (mostly when Shain is traveling for work) and I literally just cook up some meat and veggies and throw a couple eggs on top..everyday.
  Planning is EVERYTHING.  If you don't set yourself up right every week, it will be so much easier to grab fast food, throw in a pizza but when you PLAN all you have do is make the choice to eat it, the work is already done.  Don't let the winter pounds get you!   Besides, when the weather is dreary on the weekends, it is actually kinda fun to spend a couple hours playing around in the kitchen with some good music 🙂
Stay blessed in the MESS!