So, I have not given you an update on the bliss of wedding planning lately and apparently people LOVE to read about this (you people are very WEIRD).   Anywho, it has been quite the eventful few months on the wedding front.  Some good, some annoying.  My best friend tells me I am the "wedding planning grinch", she is totally right.  I need to suck it up and start enjoying this process!  I LOVE WEDDING PLANNING! IT IS MY FAVORITE!!  Did I convince you?  No? Crap.
So a couple things have happened, I found my dress which was pretty exciting.   No I didn't cry, it was more of a "this is what I am looking for and I am over the process of trying on dresses" kind of thing.  I think my mom was a little disappointed at my lack of tears, but I will say that I do really love it a lot despite not getting emotional over it.  The process of trying on wedding dresses was very overwhelming to me, just the costs of these dresses alone made me very uncomfortable.  I have never been one to pay full price for much, so even when wedding dresses are "discounted" they still cost hundreds of dollars.  Discount my butt.   But I did find one that I love.   I have the dress, I guess I have to get married now huh?  Darn.
Other big news is we changed our venue AND our date.  Yeaup.  It has been my goal to have this wedding be under $10,000 and that has been a hard fight since day one. Everything is over priced.  For example, I got a quote from our florist the other day.  Did you know a bride's bouquet of flowers averages around $100??!?!!  ONE HUNDRED DOLLARS.  I'm sorry….are there diamonds in those flowers? Do they hold some kind of special secret to life? Better yet, do they turn into sour patch kids at the end of the night?  Even if all three of those were true, I still do not know that I would pay ONE HUNDRED DOLLARS for ONE bouquet of flowers.   And I like flowers, a lot.  I am a lover of plants and flowers.  But sorry, not happening.  Oh and also, for a "toss" bouquet (one that you literally throw to all your single ladies) the cost was $40.  For flowers….that I literally toss away.  I wonder if I can just wad up a bunch of cash instead and toss it?  It would be the same thing? Yeah, no.  I will be looking into other alternatives.
Okay sorry got off track on a rant.  But yes, we changed our venue and date.  The original farm we were going to have it at just was not working out how we wanted.  The family that runs it was wonderful, but the costs to have an outdoor wedding with tent and lighting etc. was adding up way too quick.  So long story short- we changed to a place I saw months ago and loved, but at the time Shain was not so convinced.   It is an old lodge right in the middle of a beautiful forest preserve and is very affordable to rent out.  Miraculously, our caterer, photographer, DJ all were able to move the date for us.  So despite the hassle to change everything, I know it was all worth it for what we will save.  These pictures are from a wedding that was held here last summer, pretty cool right?  Love it.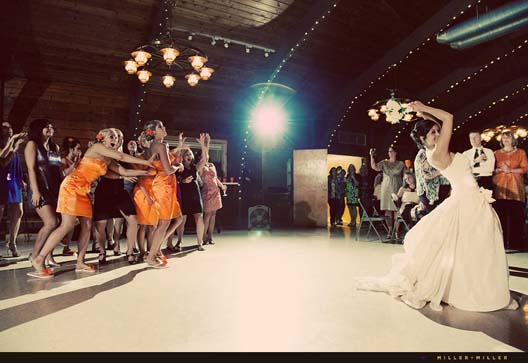 Right now, much of wedding planning is on the back burner again.   Work is crazy for me and same with Shain as he is traveling like crazy and barely home.  So we have to wait until both of our schedules slow down to start hammering more things out.  Yes, that means Shain is very involved in this process.  I will not embarrass him by telling you how much he cares about all of the little parts of this wedding.  Maybe I already did, whoops.
We ALSO decided on our honeymoon!! Yay!!  Since I wanted to go on some kind of wilderness trek and Shain wanted to lay on a beach in Mexico- we decided on a compromise that I am pretty excited about.  Anybody watch the show, Diners, Drive-ins and Dives?  Well,  we are going to go on a cross-country road trip to  visit all of our favorite places from that show (and some other fun tourist stops)!!  So cool right?  Oh… and we are going to rent a jeep for it too because how fun is a road trip in the middle of summer in a jeep?  So fun.   We love road trips.  We love food.  Combine the both=pure awesomeness.

So the battle against what "society" thinks we should do for a wedding continues on.  I am determined to win this thing.  I refuse to do things just because "that is what you are supposed to do at a wedding".  I know I have made much of my family and friends roll their eyes and get frustrated with me, but they are starting to come around.  Again, all I care about is having our closest family and friends around us,  and you don't need extravagant details to make that happen.  We will have an awesome wedding, and our guests won't even know half the things we skipped on.  Because guess what?  Nobody takes home the favors, notices the detailed centerpiece or what kind of  silverware you used, or what flowers specifically are in your bouquet.  I have been to countless weddings and I could not tell you ONE of those things.  There will be good food, good booze and music.  Do you need more?  I don't think so.
Stay blessed in the mess! 😉